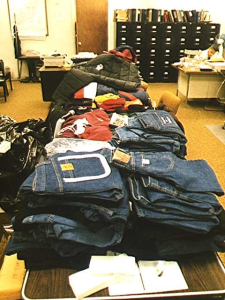 America had few, if any, apparel designers until the late 1960's.  Along came designers like Ralph Lauren, Calvin Klein, and George Marciano to name a few.  These designers built their apparel empires by way of brand marketing, which originated as an advertising strategy after World War II. The idea was to create brand awareness in the consumer through advertisements and then branch out to other consumer products and services.
While researching my book on Trademark Counterfeiting, I interviewed a former assistant corporate counsel for Levi Strauss about designer jeans.  He said "designer jeans, acid and stone washed jeans, are no better than your average pair of Levi 501s.  The technology hasn't advanced that much."
Brand marketing and a strong marketing campaign helped build an empire for Ralph Lauren whose ubiquitous polo player symbol is used to sell polo shirts, dress shirts, tee-shirts., socks, cologne and other consumer items.  Brand marketing was used by Calvin Klein who created ads featuring fifteen year old Brooke Shields wearing CK jeans, and Murjani which launched Gloria Vanderbilt designer jeans with a swan logo.  Brand development is used by many corporations.  For instance Harley Davidson has branched out into theme restaurants and apparel; Caterpillar, the maker of tractors, has work boots; and so on.  Many female celebrities have lent their name to perfume and apparel.
Designer jeans were a big hit and topped the list of apparel sold in the United States.  This was the hippie generation who wore jeans because they were a working man's clothes.
However, the downside was that the jeans were easy to counterfeit. Much of the apparel was manufactured in Mexico and in Asia where the cost of labor is cheaper and this contributed to the counterfeiting onslaught.  Selling counterfeit jeans and apparel became widespread and remains so to this day.  Apparel and luggage manufacturers spend millions in combating the counterfeiters.  Louis Vuitton spends about five percent of its revenue fighting counterfeiters.